Last Updated on March 1, 2020 by True Buddy
Introduction
A well-written resume is the first good impression that you create in the mind of the interviewer. It presents your skills and positive image and increased the chance of getting selected. While an average or not so well written resume gives a negative impression and reduces the chance of getting shortlisted. The employer scans through your resume for only 15 to 20 seconds. These 15 seconds are extremely important to create a solid image of you. Therefore, it is important that all your skills, quality, experience and other relevant are mentioned in your resume in a systematic manner. Must remember, 'Resume is the mirror of your personality'. It is the first step that qualifies you for the job. Hence, a proper structure is extremely important for an effective resume.

While making the resume, it should be kept in mind that with the resume your image should be made as a true and honest person. Hence, your resume should mention only those things which are true and relevant. Do not include any information which is not related to you. Must mention your achievements and hobby but not exaggeratedly.

The simpler you say it, the more eloquent it is. —August Wilson
Step-by-step guide on how to structure an effective resume
Let us know step-by-step on how to structure your resume to make it highly effective and impressive. We will know about the various sections which are important for the solid structure of an effective resume.
STEP- I
Header of your resume
The header of your resume should have your details like name, contact number, email id and one to two-line describing you and your professional experiences and goal. Choose the right keywords while articulating this section. If you are a fresher you should name this section as Career Objective. If you are an experienced professional then name this as Professional Synopsis.
Here are some samples


STEP- II
Education and Professional Qualification
This section of your resume should highlight all your highest educational and professional qualifications in separate subsections. This section holds the highest importance in the resume. The following information is required while describing your educational qualifications-
Name of the Institution
Degree Name
Pass year
Percentage / Rank

If you are a fresher, then write down your academic achievements effectively. You should also mention additional activities beyond school.
Here are some examples


STEP- III
Professional Experiences
This section is extremely important for working professionals. Here, you need to articulate your work experience in chronological order. That is, the current or the latest work experience will go to the top followed by remaining experiences in the same order. Every work experience should have a separate work title as it gives comfort to the employer in quickly and clearly going through your resume. While writing this section, write only the essential and relevant information for the job being applied and not only for the job being applied.
Here is a sample: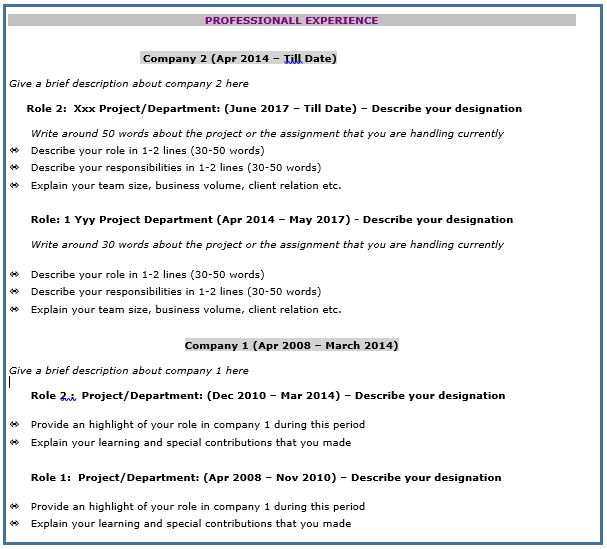 STEP- IV
Job Profile and Responsibilities
This section is an extension of the previous section. For working professionals, it is extremely important to highlight the role and responsibilities that they have handled in their professional careers. Adding this section separately in resume brings clarity to your experience and skills.
Below graphics will give you an idea of how to add this section in your resume. You need to write 1-2 relevant lines against each bullet point.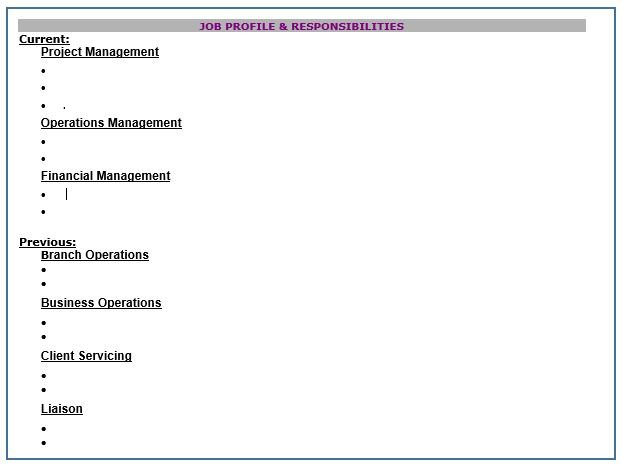 STEP- V
Skills & Domain Knowledge
Skills and domain knowledge are some of the major aspects any employer will look into you. It is observed that most of the candidates include skills in the professional qualification section. This is not correct. You must capture this information in a separate section of your resume so that it comes in the eyes of the employer.
Below is a high-level template that will give you an idea of how to add this section to your resume.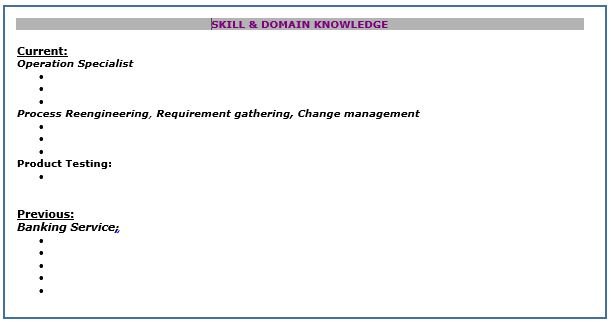 STEP- VI
Key Contributions
If you are a working professional and targeting a senior position, this section of your resume holds a lot of importance. The prospective employer would like to see your contributions to the current employer. This section should be written very honestly without giving any false information.
Below is the template that will guide you to add key contributions section in your resume.

This section summarises your complete professional journey till now. It provides a clear picture of how you have made progress in your career.

STEP- VIII
Seminar/Workshop/Award
In this section, you can mention the awards and recognitions that you have received during your educational or professional life. If you have attended any professional workshop or seminar which you feel is good to be highlighted, you should provide the details here.

STEP- IX
Area of Interest
This section carries very little importance in your resume. Unless and until you have a specific hobby, remove this section from your resume.

This section of the resume is least important from the evaluation perspective. However, you still need to provide a few inputs in this section. This information includes your date of birth, home address, marital status, etc.
Conclusion
We covered almost all the important sections which are needed in a quality resume. However, some of these sections may not be relevant for freshers. Fresher, with less work experience or those who have just graduated should highlight the skills learned during academic. Freshers resume should be between one to two page long. Whereas, for working professionals the length of the resume should be between two to three pages.